Hire Mariana for your next event!
~ Performance options ~

Mariana offers sparkling performance options in package format. However all packages are still 100% customizable: if you see something from one package you'd like to combine with another, contact Mariana for price specifics and/or adjustments.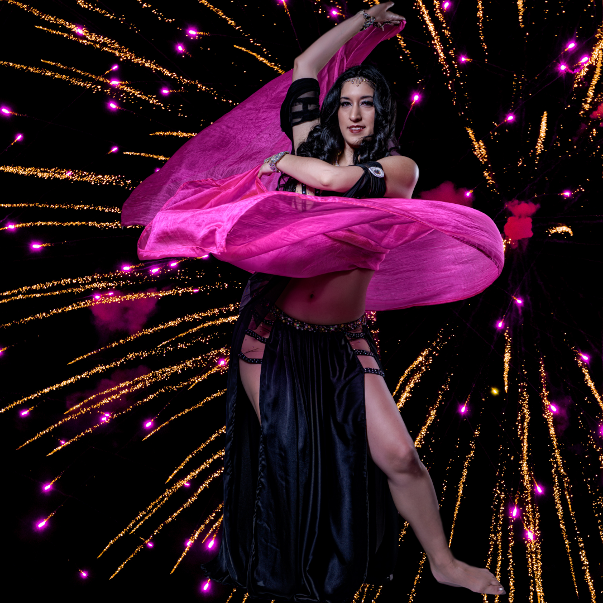 Thrill your guests with a performance of authentic Middle Eastern entertainment at your next event! Audiences will be thrilled by Mariana's alluring personality and her impeccable technique. Mariana's specialties include: balancing sword, candle tray dancing, playing finger cymbals (zils), powerful drum solos and opulent veil work. If that just made your head spin, please see the "media" tab (above) for examples. You can also read descriptions of the performances pieces (below)
Interested in booking Mariana for your event today?
It's very easy!

Follow these 5 steps for booking success:

1) Email Mariana directly at marianabellydance@hotmail.com or call her at 267-225-7473. Mariana will get back to you no later than 24 hrs.
2) Please include the following information in the email: 1) Date of the event, 2)Time and desired length of performance, 3) Location of event
4) The type of show preferred (ie traditional performance or belly gram)-Please scroll down to view available options.

5) Make sure to include how best to contact you and any other specific details Mariana should know (ie: color of costume preference, requested music choices etc).

After initial contact is made, Mariana prides herself on working closely and tirelessly with her clients to achieve a special, authentic and lavish performance piece.
"Bellygram"
$250- You've heard of singing telegrams, but have you seen dancing ones? Bellygrams are a perfect surprise at the office and include a 10-15 minute performance (guest of honor participation optional)
Show + Lesson:
$325- If you would like to give your guests the full experience of a lesson and a show, this package is for you! Mariana will give a 10-15 minute performance and a 20-25 minute lesson (Book in advance and Mariana will provide hip scarves for your guests! A fabulous option for Bachelorette parties and Ladies' night out!)
Traditional Show:
$300- Add some sparkle to your event with this package: a traditional belly dance performance (30 minutes in length), with daring sword balancing, beautiful veil dances, lively finger cymbal playing, fluttering fans and her signature piece: dancing with a tray of real candles! Treat your guests to this sumptuous event and they'll be talking about it for months to come!
Wedding performance:
$350 and up- Like saffron, the most precious and luxurious spice on earth, your 'big day' has arrived and your entertainment should be nothing but exceptional. Mariana will customize a full show for the reception (40-45 minutes) including dramatic Isis wings, daring sword balancing, compelling veil dances, lively finger cymbal playing, her signature candle tray dance and optional audience participation: a perfect introduction to a night of celebration. If you're looking for something more traditional, for example a "zeffa"- wedding processional for the bride and groom, please specify when booking for pricing. Mariana is thrilled to work with you on your special day and will work with all budgets and time constraints to help you have the most memorable day.
Mariana and live music:
Interested in a completely live performance? Not only the award winning dancing of Mariana but also the accompaniment of professional musicians? Mariana can be requested with an individual drummer, duo or even band! Please inquire and book early as to your preference and be aware that the musician's fee for performance will be in addition to Mariana's fee.
*In the Philadelphia-PA area? Mariana has worked with local acclaimed musicians and can highly recommend the best of the best. Please inquire with Mariana on who she recommends!