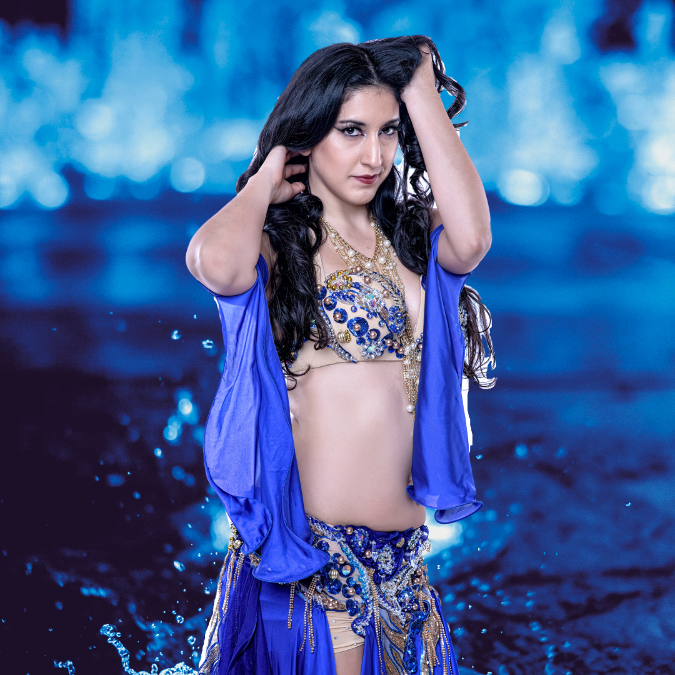 Q:
What does a belly dance performance look like?
A: A belly dance performance is a dance performance that includes traditional Middle Eastern dance technique combined with an optional use of props. Below are more detailed descriptions of performance pieces that can be hand picked by you or will be added with discretion by Mariana. The individual pieces can last from 3-5 minutes. Have you already inquired about my services? (that's great!). Take a moment to review the below descriptions as these are the pieces I'm referring to when saying, "my performance will include wings (isis wings), sword, candles, and veil"etc.
Q: How long are your performances?

A: Depending on what you requested (bellygram vs. a standard performance), a typical full show is between 25-45 minutes. In a standard show, Mariana dances with (but is not limited to): fans, veils, wings, a candle tray, balancing sword and even plays finger cymbals!
Q: Are belly dance shows appropriate for children?
A: Yes! I love dancing for children (they are always welcome to participate at the end as well). All my shows are family friendly. Always.

Q: What kind of music do you use?
A: Mariana prides herself on having an extensive music collection that includes Arab classics to the hottest new Arabic pop music, fusion hits (for example, flamenco & belly dance), as well as music from Greece, Morocco, Lebanon, Turkey, Israel, India & Iran (to name a few). Mariana loves to incorporate new music, so if your event embraces a specific culture or ethnicity, make sure to notify her when booking so she can include it and celebrate your heritage.
Q: Is it appropriate to tip?
A: Yes. Unless otherwise requested, Mariana does accept tips. There are 3 ways to correctly tip a belly dancer: 1) money shower: tips may be thrown over Mariana's head while she dances or 2) belt tips: tips may be tucked gently in the dancer's sparkly belt or 3) handed to her after her performance.
Q: When should I book Mariana?
A: It is always better to book your event sooner rather than later. Keep in mind Friday and Saturday nights and national/international holidays are the busiest times and Mariana may be completely booked. Book early to ensure the date of your choice.
Q: Does Mariana dance out of state and/or at international events?
A: Yes! While Mariana is currently located in Philadelphia, PA, she is happy to travel out of state to perform at private events as well as teach workshops. Out of state/country events must be booked in advance (2-4 weeks minimum) and please be aware additional travel fees/expenses will be added. Please contact Mariana directly to determine a final fee quote.
Q: It says Mariana dances at Bachelorette parties, does she also dance at bachelor parties/stag parties?
A: Unfortunately no. Mariana has great respect for the art of belly dance (raqs sharqi), and considers herself a professional artist and is not available for bachelor parties/ stag parties, or any/all male only parties in general to preserve the ancient origin and name of the dance.